The following BTKA gear are required by Sifu Wang.  BTKA T-shirts and appropriate Kung Fu shoes are required by Sifu Wang.
BTKA Student T-Shirt
Ideal for workouts, The BTKA student T-shirt is a medium-weight 50/50 poly-cotton blend…enough to feel substantial but not too heavy to wear during heavy exercise. The T-shirts have a four-color screen-printed BTKA logo on the front, and on the back is a list of primary styles offered by BTKA.
Available in S, M, L & XL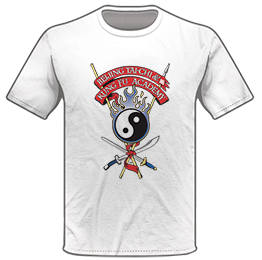 Feiyue Kung Fu Shoes
Feiyue Kung Fu shoes are worn by the Shaolin Monks and are the most popular Kung Fu shoe in the world. Most non-Chinese martial arts shoes have a special pivot point designed into the sole on the medial ball of the foot. Karate and Tae Kwon Do emphasize movements from the ball of the foot, whereas Chinese styles tend to be more "heel" based, so that pivot point doesn't really help in Kung Fu.  The design of Feiyue shoes is far superior for the unique footwork of Chinese styles, both indoor and outdoor.
May be available in sizes 35 to 47 (European Sizing) to BTKA enrolled students only!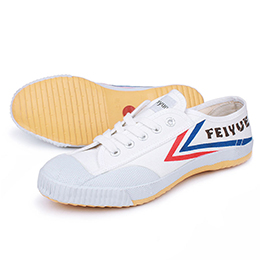 Each weapon taught in the Weapons Curriculum is available directly from Sifu Wang. Due to safety concerns, we recommend not purchasing any weapons until you have started receiving instruction for it.