Inside Kung Fu Magazine
March 2010
5 Minutes, 5 Forms, 5 Exercises
Jonathan Wang, Tournament Competition's First 500-Medal Man, Shows How These Five Warm-up Exercises Helped Him Make History Compiled by Dave Cater.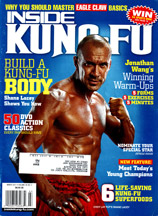 Master's Magazine
Winter 2010
Jonathan Wang Redefining Kung Fu
By Jose M. Fraguas
Sifu Jonathan Weizhang Wang was born in 1973 in Beijing, China. He began his studies in Kung Fu at the age of 8 when he started training in Shan Xi Xing Yi under Master Cui Guo-Gui. In 1989, Sifu Wang immigrated to the U. S. and started training under Grandmaster Jiang Hao-Quan, a distinguished graduate of the Nan-King Guoshou Institute and one of the top Martial Arts professors in China. Sifu Wang studied traditional Chinese fighting techniques intensely under Grandmaster Jiang for several years. During this time, he also was studying Taichi under his father, Master Daniel Yu Wang, one of the few people in the world to have mastered all five classical styles of Taichi as well as Taichi Sanshou and weapons.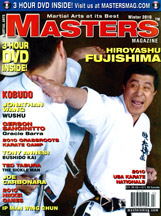 Inside Kung Fu Magazine
September 2009
Kung-Fu's Gold Standard
Jonathan Wang has turned Ameria's Chinese Competition Circuit into his Personal Playground. Discover the Secret to Success by Jonathan Wang, with Dave Cater.
Inside Kung-Fu has asked me to share the secrets of my success-the reasons why I have been able to distance myself from the rest of the competitiion. After much thought, I believe that there are four reasons for my success: the depth and breadth of my study of numerous internal and external forms and applications with a host of uniquely talented masters; my intense dedication to training; my attention to strengthening and restoring my body throuh traditional Chinese medicine and a high protein diet; and my strong commitment to continued growth.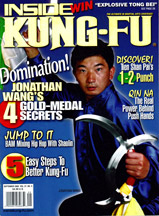 Inside Kung Fu Magazine
November 2007
Jonathan Wang, Competitor of the Year
Had it not been for politics – and a strange addition to a form – Jonathan Wang might be preparing for his coming out party. As it is, he will have to remain one of America's best kept secrets. Wang was primed and ready to make the Beijing Olympics his personal kung fu playground while showing the world that Americans indeed can compete on a world stage. And what better stage than the Olympic Games, in the birthplace of kung fu, doing what he loves best.
Sadly, as they say the best-laid plans of mice and men, as well as those of unsuspecting athletes, often go awry. Beijing's inability to push its home sport into the mix, combined with the addition of "Dan du" movements, which make tai-chi more gymnastic, was more than Wang could overcome. For Wang, who runds the Beijing Tai-Chi & Kung Fu Academy in Santa Monica, CA, the most he can hope for now is the personal pride that comes from being one of the best in the world.
His international results over the past year tell an amazing story of success at every level. Wang enjoyed arguably the greatest single year of competitive kung fu in Western Chinese martial arts history. Son of the world-renowned tai chi master Danial Y. Wang, the 35-year-old Jonathan Wang collected an astounding 75 gold medals participating in some of the world's most prestigious events.
Among his crowning achievements were Internal Grand Champion honors at the 2nd International Traditional Kung Fu & Wushu Tournament; Internal Grand Champion at the USAWKF National Tournament; Internal Grand Champion at the 10th Annual Taiji Legacy; Internal Grand Champion at the San Diego Grand Nationals International Martial Arts Competition; and International Grand Champion at the Hong Kong 10th Annual Reunification Tournament.
Wang won't let something like an Olympic snub keep him from learning and growing. A licensed acupuncturist and holder of a master's in Oriental Medecine, Wang plans to continue training in Beijing several times a year. Which only goes to show that Jonathan Wang does not neeed the glory of Olympic Gold to prove his worth in the world of kung fu.